2 years after withdrawal, Obama makes case for new military action in Iraq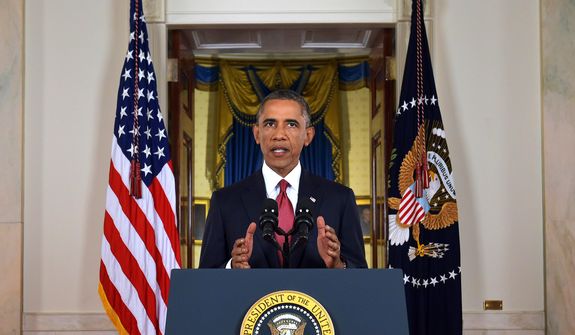 President Obama announced an escalation of the war against Islamic State terrorists Wednesday night with plans to intensify airstrikes in Iraq, send more U.S. military advisers to Baghdad, provide arms to Syrian rebels and likely expand airstrikes into Syria.
"If left unchecked, these terrorists could pose a growing threat beyond that region — including to the United States," Mr. Obama said in a prime-time address from the White House. "We will conduct a systematic campaign of airstrikes against these terrorists."
The president ordered another 475 military advisers to Iraq, on top of 300 advisers he sent there in June and 130 U.S. personnel he sent last month to aid in a humanitarian mission.