Again with the emails: Latest scandal rocks Clinton's crowning at convention start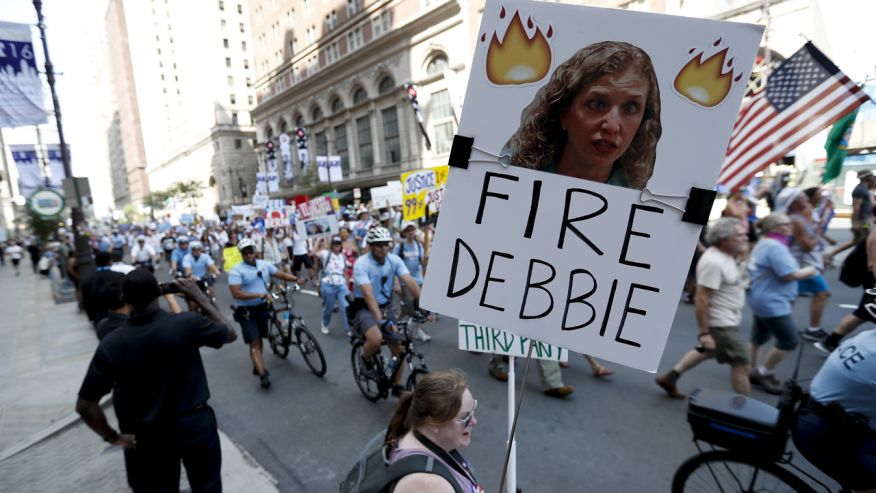 PHILADELPHIA – Hillary Clinton, who spent the entirety of her presidential primary campaign battling allegations over her improper use of a personal email server while secretary of state, once again faces an email headache just days before her crowning as the Democratic presidential nominee.
This time, the leak of thousands of emails from the Democratic National Committee, some of which indicated an anti-Bernie Sanders bias at the very top of the organization, led to the resignation of Chairwoman Debbie Wasserman Schultz.
The controversy now hangs over the start of the convention as Sanders supporters prepare to protest, outside and potentially inside the convention hall. On Monday, Schultz tried to explain her new role in the party, vowing to get to work electing Hillary Clinton.
"You'll see me every day between now and November 8 on the campaign trail," she said, even as Sanders supporters waved signs in front of her and shouted, "Shame!"
On the sidelines, Sanders supporters and others angry at the Democratic establishment are poised to turn out, potentially in the thousands, on Monday to protest all over Philadelphia. This, before the convention formally gavels in late Monday afternoon – after which Sanders himself, as well as liberal icon Elizabeth Warren, are set to speak.