Baltimore Thugs Attacking Reporters And The Media Won't Even Report It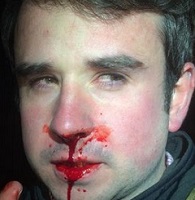 On April 27, Daily Caller News Foundation reporters Connor D. Wolf and Casey Harper went to Baltimore with The TheDC's Grae Stafford to find the truth behind the Freddie Gray protests. What we found instead were violent thugs willing to go after anyone — even us.
While we interviewed looters, gang-bangers and activists, criminals violently set upon us. Here is the story of that chaotic night, and the events that led us to that frantic melee.
I was interviewing a group of rioters who were busy stealing an ATM machine at the intersection of North Fulton Avenue and West North Avenue. They initially agreed to speak with me, if I wouldn't take any more pictures.
But some other folks had a different idea, and while I was scribbling frantic notes, I was sucker-punched in the face. You can see where the pen trails off on the top line, when they hit me; my blood marks the page. My nose was broken, and I was bleeding uncontrollably as the crowd surrounded me. Disorientated, I tried to get away, but…