Boehner lashes at conservative groups: 'They've lost all credibility'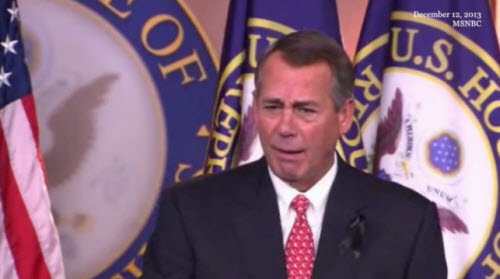 Speaker John Boehner (R-Ohio) lit into conservative activist groups for a second straight day, saying they have "lost all credibility" by attacking a bipartisan budget deal before it came out.
In a remarkable year-end press conference, Boehner repeatedly, and at times angrily, denounced and mocked the organizations that have dogged him throughout his Speakership, accusing them of "misleading their followers" while defending his own conservative credentials.
"I think they're pushing our members in places where they don't want to be, and frankly, I just think that they've lost all credibility," Boehner said.
The Speaker didn't cite any organizations by name, but he was clearly referring to a collection of Tea Party and conservative groups that have opposed nearly every significant piece of fiscal legislation he has presented to his members. They include Heritage Action, the political arm of the influential think tank, as well as the Tea Party-aligned FreedomWorks and Americans for Prosperity.
Boehner grew more animated as he recalled the government shutdown in October, blaming the activists who he said "pushed us into this fight to defund ObamaCare and shut down the government."