Book: Christie Vetting Nightmare in '12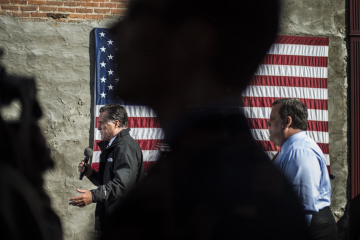 The following is an excerpt from DOUBLE DOWN: Game Change 2012 to be published Tuesday, Nov. 5.
In conventional political terms, Mitt Romney's challenge in picking a VP presented a complex puzzle. With the GOP convention in Tampa less than a month away, he was running four to six points behind Barack Obama in the national polls. Mitt was hurting with women, hurting with Hispanics, hurting with blue collar whites. His standing in the industrial Midwest and the West was shaky. The Republican base remained unenthused by him and the middle of the electorate unimpressed. The quandary was which of these maladies he should try to heal with his running mate. For many members of the Republican smarty-pants set, one thing was increasingly clear: Romney needed a game changer.
Romney didn't see it that way, at least not at the start. When he tapped longtime adviser and confidante Beth Myers to lead the search for his VP, Mitt put forth two criteria and a precept. The criteria applied to the candidates: that they be qualified and immediately perceived as qualified to be Commander in Chief, and that there be nothing in their background that could become a distraction for the campaign. The precept applied to Myers and her assignment. When decision time came, Romney said, he wanted to have a choice—not be informed, with the clock ticking, that there was really only one viable option.
Myers set up her operation in a third-floor office on Boston's Commercial Street that became known as "the clean room." Because the Romney campaign's servers were under continual assault by Chinese hackers, the computers in the clean room were not connected to the Internet. Myers insisted that the team be extremely cautious about what they put in e-mail when using their regular computers. Ted Newton and Chris Oman, two veep background checkers, concluded it was best to communicate in code. Based on their junk-food-saturated vetting diet, they called their undertaking Project Goldfish (after the crackers)—ultimately giving each of the VP finalists an aquatic code name. Myers' plan was to have Project Goldfish completed by Memorial Day. In April she presented Romney with a list of two dozen names, which he whittled down to 11: Kelly Ayotte, John Cornyn, Chris Christie, Mitch Daniels, Bill Frist, Mike Huckabee, Bob McDonnell, Tim Pawlenty, Rob Portman, Marco Rubio and Paul Ryan.
Within a month, the vetters had assembled preliminary research books on the 11, which Romney perused and then rendered his short list: Christie (Pufferfish), Pawlenty (Lakefish), Portman (Filet o Fish), Rubio (Pescado) and Ryan (Fishconsin).