Clinton Cash Author About To Target Jeb Bush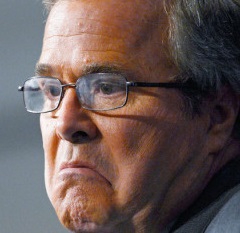 The past week can't have been very pleasant for Peter Schweizer. On Sunday, the New York Times revealed that his forthcoming book, Clinton Cash: The Untold Story of How and Why Foreign Governments and Businesses Helped Make Bill and Hillary Rich, was roiling the political world—"the most anticipated and feared book of a presidential cycle still in its infancy," as the Times put it.
That landed Schweizer squarely in the crosshairs of the Clinton team and allied liberal groups, which have launched a campaign to discredit Schweizer as "disreputable" and blinded by partisan animosity. Anyone familiar with Schweizer's work knows better: he wrote a well-regarded book about the Bush dynasty and another, detailing insider trading in Congress, that led to a new law, the bipartisan STOCK Act of 2012, which aims to curb these abuses.
That hasn't quieted the left-wing clamor that Schweizer is simply out to get Hillary Clinton. But maybe this will: Schweizer is working on a similar investigation of Jeb Bush's finances that he expects to publish this summer.