CPAC 2015 Straw Poll: Rand Paul wins again — but Scott Walker is surging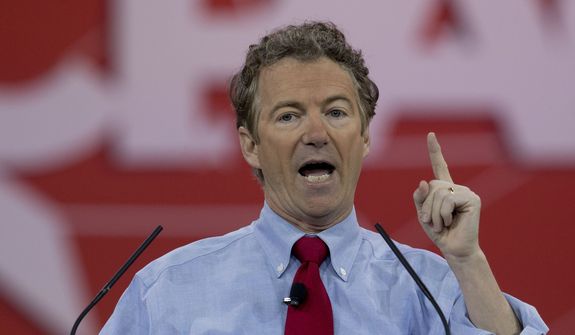 Sen. Rand Paul won The Washington Times/CPAC presidential preference straw poll for the third time in a row while Wisconsin Gov. Scott Walker surged to second place, as they trounced the rest of a strong but crowded field of potential candidates Saturday.
Sen. Ted Cruz slipped to third place, down a rung from his showing last year, with retired neurosurgeon Ben Carson in fourth and former Florida Gov. Jeb Bush fifth. Mr. Bush was booed by the crowd when his name was announced in the poll results, suggesting how polarizing a figure he is among conservatives.
The more than 3,000 activists who voted at this year's Conservative Political Action Conference also showed commanding support for legalizing marijuana, with a strong plurality of 41 percent saying it should be legal for recreational use, and another 26 percent saying Americans should be able to at least use it for medicinal purposes with permission of a doctor.