Cruz: 'The deep state' is working overtime to salvage Obama's Iran nuclear deal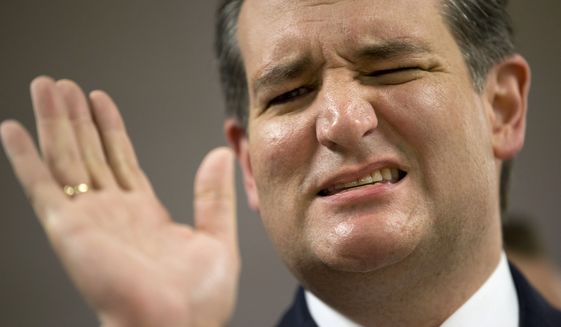 Texas Republican Sen. Ted Cruz claimed on Tuesday that "the deep state" within the Treasury and State Departments trying to undermine the Trump administration's efforts to counter Iran.
Cruz said the goal of the individuals within this deep state is to salvage the remnants of the 2015 nuclear agreement the Obama administration signed with Iranian leaders.
"I am here to tell you the deep state is alive and well and has circled the barricades around Washington, D.C. And the number one objective of the deep state at the department of State, at the department of Treasury, is to preserve the disastrous Obama Iran nuclear deal," Cruz said at the Hudson Institute in Washington, D.C.
Trump has long charged that sinister forces within the federal government bureaucracy are plotting to undermine him, but Secretary of State Mike Pompeo has said he has not witnessed a deep state during his time in the administration.
"I don't believe there's a deep state at the State Department," Pompeo said in 2018, adding that employees during his time running the CIA "nearly uniformly were aimed at achieving the president's objectives."
Cruz said members of the deep state are motivated by the 2020 presidential election. "Their overarching objective is to prevent this administration from dismantling the Iran deal completely because they believe one of the 2020 Democratic presidential candidates is going to win," Cruz said.
He said that any of the Democratic candidates would "eagerly" reinstate the Iran deal, and encouraged the administration to end waivers that allow Iran's civilian nuclear infrastructure to work with countries like Russia, China, and various European countries. The Trump administration renewed the waivers at the end of July, despite Republicans like Cruz encouraging the president to scrap them. The State Department did, however, sanction Iranian Foreign Minister Mohammad Javad Zarif at that time.
The Trump administration will have to decide whether to renew the sanctions before November, when the last waiver's 90-day period expires.
Trump removed the United States from the Iran nuclear agreement in 2018 after promising to do so during his 2016 presidential campaign. His administration has since applied a campaign of "maximum pressure" against the Iranian regime. Tensions between the U.S. and Iran reached a high over the summer, with Trump calling off a last-minute retaliatory strike against the country in response to the Iranian military shooting down a U.S. drone. The U.S. has since started Operation Sentinel, a multi-national mission to protect shipping in the strategically crucial Persian Gulf, while Iran has targeted Cruz and several other political figures with their own sanctions.