Dick Cheney: Obama Wants To Take America Down!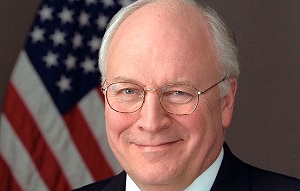 In an appearance on "The Hugh Hewitt Show" Tuesday night, former Vice President Dick Cheney said that President Obama's actions on the world stage exemplify a president who wants "to take America down."
Cheney also touched on Obama's comments on Wisconsin Gov. Scott Walker, telling Hewitt that Obama is the only post-World War II president to believe that America doesn't need "to play a leading role in the world."
The former vice president made the appearance following the announcement of a new book on American foreign policy, co-authored by himself and daughter Liz Cheney, will be released in September.
HEWITT: Let me play for both of you a cut from earlier today. The president sat down with an NPR reporter who asked him about Scott Walker's statement on this show last week that he's repudiate the emerging Iran hologram — I don't call it a deal — on day one. Here's what the president said…