Did GE Buy-Off Hillary For A 1.9 Billion Dollar Contract?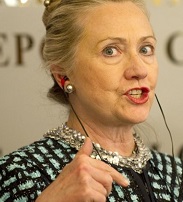 At today's annual meeting of General Electric shareholders in Oklahoma City, Oklahoma, the National Center for Public Policy Research asked the industrial giant about the apparent conflict of interest between its philanthropy and the actions of top government officials, and raised the question of whether GE needlessly exposed itself to potential prosecution for honest services fraud.
The National Center's Justin Danhof asked GE CEO Jeff Immelt to make public emails and other written communications between the State Department and GE during the period when it made a generous contribution to the Clinton Foundation and the State Department arranged a major contract for GE.
GE CEO Jeff Immelt replied: "That's not something we would do."
"There is no evidence that GE did anything wrong – but that's the point – there is no evidence period," said Danhof. "When one of the world's most powerful companies teams with the Secretary of State and the end result is a massive donation going one way and a multi-billion-dollar foreign contract coming back the other way, the company's investors are right to ask questions. Now it is up to the media and Congress to do their part and investigate and use subpoenas if necessary to find the truth."