Do over! Obama speech to reverse course on severity of Islamic State threat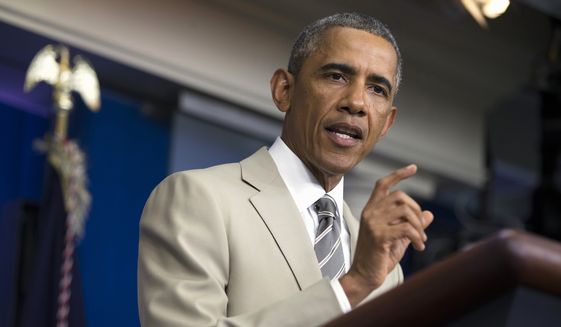 Nine months after belittling the Islamic State as a "JV" terrorist group, President Obama will devote an urgent prime-time address Wednesday to his plan for defeating the suddenly resurgent militants, a strategy that will rely heavily on U.S. partnership with an untested Iraqi government and unproven Syrian rebels.
In a speech from the White House at 9 p.m., Mr. Obama will tell Americans that the Islamic State is now a "high national security priority," aides said. And the president will try to marshal public and international support for what would likely be a yearslong counterterrorism campaign, launched little more than a year after he declared that the large-scale fight against Islamist terrorism was all but over.
The president briefed House and Senate leaders of both parties at the White House on Tuesday, though it didn't appear he laid out many specifics. An aide to GOP House Speaker John A. Boehner said the president went over some of the ideas he's already floated, and a White House statement Tuesday that Mr. Obama believed he had the power to act without congressional approval angered many on Capitol Hill.