DOW GOES BOOM: Stock index soars past latest milestone after Trump's address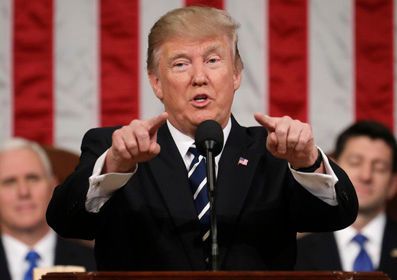 The Dow Jones Industrial Average crossed the 21000 milestone at the opening bell Wednesday morning in what was one of the fastest 1,000-point advances in the blue-chip index's history.
Optimism on Wall Street came from President Donald Trump's first address to a joint session of Congress on Tuesday night in which he outlined the ways in which he hoped to "make America great again." His policy priorities included repealing the Affordable Care Act – a cornerstone of President Barack Obama's administration, revamping the U.S. tax code, improving trade policies, and requesting Congress approve $1 trillion for infrastructure spending.
The president's speech offered few explicit details about how he plans to move these policy priorities across the finish line, but that didn't seem to bother U.S. investors much who sent the Dow nearly 200 points higher at the start of trade.