Emails reveal IRS collaboration with Democrat Rep. Elijah Cummings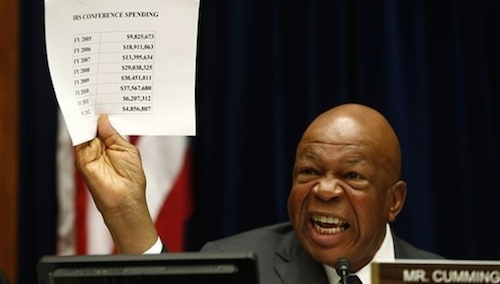 Emails delivered to the House Oversight Committee by the IRS have revealed shocking collusion between committee Democrats and the IRS bureaucrats in the targeting of conservative groups. Moreover, the staff of Rep. Elijah Cummings, who has done everything in his power to obstruct and denigrate the inquiry, are revealed to have secretly collaborated with the IRS in the targeting, despite Rep. Cummings' denials. This is serious stuff. CJ Ciaramella of the Free Beacon reports:
The Internal Revenue Service (IRS) sent tax documents on a targeted conservative group to Democratic staff on the House Oversight Committee, newly released emails show, despite previous denials by ranking Oversight Democrat Elijah Cummings (D., Md.) that such contact had occurred.

Emails released by the GOP-led Oversight Committee show Democratic staff requested information from the IRS' tax-exempt division on True The Vote, a conservative group that monitors polling places for voter fraud. (snip)

Cummings publicly requested information from True the Vote in October 2012 on its volunteer activities and training.

Five days later, the IRS sent True the Vote a letter requesting the group provide the agency with copies of its volunteer registration forms and additional information on its volunteer activities.

Cummings' staff requested more information from the IRS about True the Vote in January 2013. The request was channeled from the IRS' Legislative Affairs office to several other IRS officials, including Lerner.