Executive Engagement: How Trump Could Repeal Obamacare And Other Policies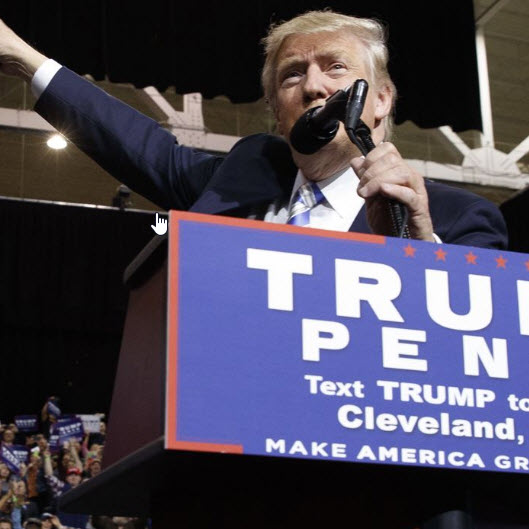 With Wednesday's vote to authorize debate, Congressional Republicans have taken their first major step toward repealing the Patient Protection and Affordable Care Act, or Obamacare. Republicans have sought to overturn the law ever since it was enacted, and after the election in November, they will soon have the votes to do so. President-Elect Donald Trump has announced that he will speed the process up by issuing executive orders as soon as he is inaugurated. While it may take Congress several months to fully repeal Obamacare, Trump can undermine the law by:
Restrict Reinsurance Funds
Under the Affordable Care Act, insurers who provide coverage for high-risk customers are eligible to receive compensation from the federal government. President Obama earmarked $3.5 billion from Treasury funds to help pay for this compensation, which Congressional Republicans insist he should give back to the Treasury. As President, Trump could issue an executive order to return the money to the Treasury. With compensation, insurers will not be able to cover as many high-risk clients, restricting the scope and effectiveness of Obamacare.
Evade Enforcement
Besides ceasing to defend the Affordable Care Act in court, Trump can also stop the IRS from enforcing a key provision of the law: the individual mandate. Currently, those who do not have health insurance must pay a tax penalty, which the IRS collects by taking money out of their tax refunds. Trump can order the IRS to prioritize other offenses, such as tax evasion, leaving them no time or manpower to enforce Obamacare. As a result, there will be no way to compel people to sign up for health insurance, preventing the law from further expanding coverage. Because the government cannot compel healthy people to sign up, it will be more expensive to cover sick people, undermining the financial sustainability of the law.
Medicaid Management
Another option would be for Trump to order federal regulators not to approve state-level changes in Medicaid. Without Federal approval, states would not be able to make changes to their Medicaid eligibility standards and other factors necessary to keep the programs operating. He could use this as leverage to slow or reverse Medicaid expansions, a key tool that Obamacare uses to provide low-income individuals and families with health insurance.
Block Basic Health
One final, smaller action Trump could take against Obamacare would be to deprive funding for state-level Basic Health programs. These programs provide public health insurance for people who are not eligible for Medicaid but have incomes below 200 percent of the poverty line. Trump could deny funding to these programs by executive order, causing them to collapse. There are currently only two states, Minnesota and New York, that have Basic Health programs, so the effect of this order would be small. Nonetheless, it would bring the President one step closer to eliminating Obamacare.
Other Orders
Besides reversing Obamacare, Trump could use executive orders to:
Abortion– He could reinstate the Mexico City policy, which prevents Federal funding from going to family planning charities that facilitate abortions overseas.
Trade– Trump could withdraw from the TPP, NAFTA, and even the WTO. He could also threaten to withdraw from these organizations as leverage to negotiate new trade deals.
Immigration– He could abolish DACA and order the Department of Labor to focus on visa abuses.
Energy– The president could withdraw from the Paris Agreement, reauthorize energy exploration in the Arctic and Alaska, and order the EPA to scrap Obama's Clean Power Plan.
Interrogations– Trump could reauthorize Gitmo as well as bring back waterboarding, sleep deprivation, and other methods used by the Bush Administration.
Gun Control– He could reverse Obama's order that gun show sellers become licensed as gun dealers, as well as allow citizens to import historical firearms.
Financial Rules– Trump could reverse the minimum wage that Obama decreed for Federal contractors, as well as his various orders for student loans.
Source
http://thehill.com/policy/healthcare/312640-trump-plans-executive-actions-for-obamacare-repeal; http://www.thedailybeast.com/cheats/2017/01/04/trump-to-kill-obamacare-with-executive-orders-on-day-one.html?via=desktop&source=copyurl; http://www.politico.com/story/2017/01/obamacare-repeal-trump-repulicans-democrats-233173; http://www.vox.com/2016/11/9/13487772/trump-obamacare-repeal; http://www.theatlantic.com/politics/archive/2016/10/trump-obamacare-executive-action/503231/; http://rare.us/story/a-republican-presidents-executive-order-could-undermine-obamacare/; http://dailysignal.com/2017/01/04/the-obamacare-executive-orders-trump-could-issue-on-day-one/; https://www.medicaid.gov/basic-health-program/index.html; http://www.npr.org/sections/goatsandsoda/2016/12/06/503187530/will-trump-bring-back-the-reagan-rule-about-abortions; http://www.newyorker.com/magazine/2016/09/26/president-trumps-first-term; http://townhall.com/tipsheet/justinholcomb/2016/11/10/the-list-of-executive-orders-that-trump-will-dispose-of-immediately-n2243914; https://www.washingtonpost.com/graphics/politics/executive-action/; http://bearingarms.com/bob-o/2016/11/09/five-fast-gun-law-reforms-president-trump-will-make/;