FINAL HUMA-LIATION? Abedin reportedly pleads ignorance of how emails got on shared laptop amid calls for Clinton to cut her loose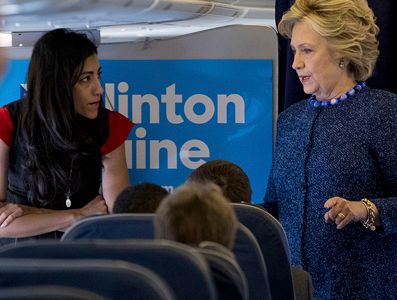 Hillary Clinton aide Huma Abedin reportedly has said she does not know how tens of thousands of emails related to the FBI investigation of her boss' personal server were found on a laptop she shared with her now-estranged husband, former New York Congressman Anthony Weiner.
The Washington Post reported that Abedin was not a regular user of the laptop in question. The paper also reported that Abedin's lawyers did not bother to search the device for work-related emails after she agreed to turn over such messages to the State Department.
On Saturday, a senior law enforcement official told Fox News that the laptop contained "five digits," or at least 10,000, emails of interest to investigators.
The source also told Fox News that law enforcement officials think it's highly unlikely that all of the newfound emails are duplicates, as the Clinton campaign has suggested. The Post reported, citing former FBI officials, that investigators would likely use a computer program to weed out duplicate emails before examining the remaining messages for possible criminality.
Meanwhile, The New York Times reported that several Clinton allies have suggested the Democratic nominee distance herself from Abedin, who has had a professional relationship with Clinton for two decades. In that capacity, Clinton's team defended an unusual employment arrangement in which Abedin was paid by the Clinton Foundation, a consulting firm called Teneo and the State Department all at once.