GOP right: Where's O-Care bill?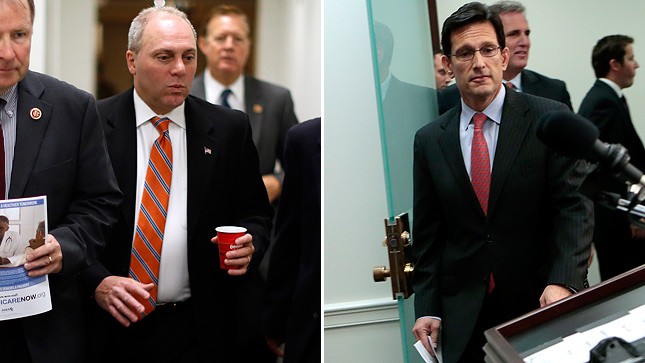 Top House conservatives are pressuring Republican leaders to bring an ObamaCare replacement bill to a vote by the August recess.
Conservatives cheered when Majority Leader Eric Cantor (R-Va.) pledged a vote during the House GOP's annual retreat in January, viewing the commitment as a central element of the party's vow to be "the alternative party" and not merely stand in opposition to President Obama.
Yet 10 weeks later, party leaders have given no indication when they might present a plan or what form it will take.
Conservatives like Rep. Steve Scalise (La.), chairman of the Republican Study Committee (RSC), are pushing for a vote by the time lawmakers leave town for five weeks at the end of July.
"At the end of the day, we feel it's really important to bring a bill to the floor that is a true replacement to the president's healthcare law," Scalise said in a phone interview Tuesday. "Look, leadership's come a long way in the last six months on that, and we're continuing to talk to them to try to get to a point where we actually have a vote on the House floor by the August recess."
Scalise wants the party to adopt a single, comprehensive replacement for ObamaCare, but party leaders have not signed off on that approach. In recent weeks, Rep. Paul Ryan (R-Wis.) has suggested the House might vote instead on a series of healthcare bills.