HEALTH BILL IN LIMBO GOP: Pols fall short on ObamaCare replacement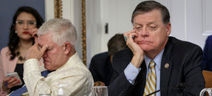 House Republicans' ObamaCare replacement plan was in peril early Thursday after lengthy leadership and committee meetings failed to produce an agreement that would shore up support among conservative members.
"We have not cut the deal yet," said House Rules Committee Chairman Rep. Pete Sessions, R-Texas. The committee spent 13 hours in session Wednesday without setting up a formal rule governing debate on the health care bill, which had been expected to be voted on by the full House Thursday.
Sessions said he suspected that House Republicans would try to agree on a path forward for the bill when they meet in conference Thursday morning.
The Rules Committee, usually tightly controlled by GOP leadership, had been expected to let the chamber vote on revisions that top Republicans concocted to win votes. These include adding federal aid for older people and protecting upstate New York counties — but not Democratic-run New York City — from repaying the state billions of dollars for Medicaid costs.