Hillary Clinton Lesbian Scandal To Emerge?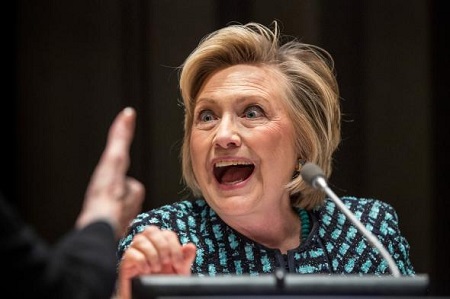 One source close to the entertainment industry is shopping what are described as hours of telephone conversations allegedly recorded by a jilted lesbian lover in which an inebriated Mrs. Clinton supposedly trashes politicians and celebrities, including her husband. The opening bid for the recordings is $10 million. Whether their actual content will ever see the light of day is an open question. But would Clinton, already under fire for her erasing most of her emails as secretary of state, be able to handle the dropping of a bomb like that?
Some in the progressive and feminist community are angry with Clinton for her role in the cover-up of what they see as legitimate sexual harassment, womanizing and even rape, allegations against her husband. In an interview with Reason magazine in March, for instance, Camille Paglia had this to say about a Clinton candidacy: "[H]illary does not have it. Hillary is a mess. And we're going to reward the presidency to a woman who's enabled the depredations and exploitation of women by that cornpone husband of hers? The way feminists have spoken makes us blind to Hillary's record of trashing [women]. They were going to try to destroy Monica Lewinsky. It's a scandal.
Anyone who believe in sexual harassment guidelines should have seen that the disparity of power between Clinton and Monica Lewinsky was one of the most grotesque ever in the history of sex crime. He's a sex criminal. We're going to put that guy back in the White House? Hillary's ridden on his coattails. This is not a woman who has her own career, who's made her own career! The woman who failed the bar exam in Washington. The only reason she went to Arkansas and got a job in the Rose law firm was because her husband was a politician…