Hillary Clinton's health scare, pneumonia diagnosis fuel speculation of cover-up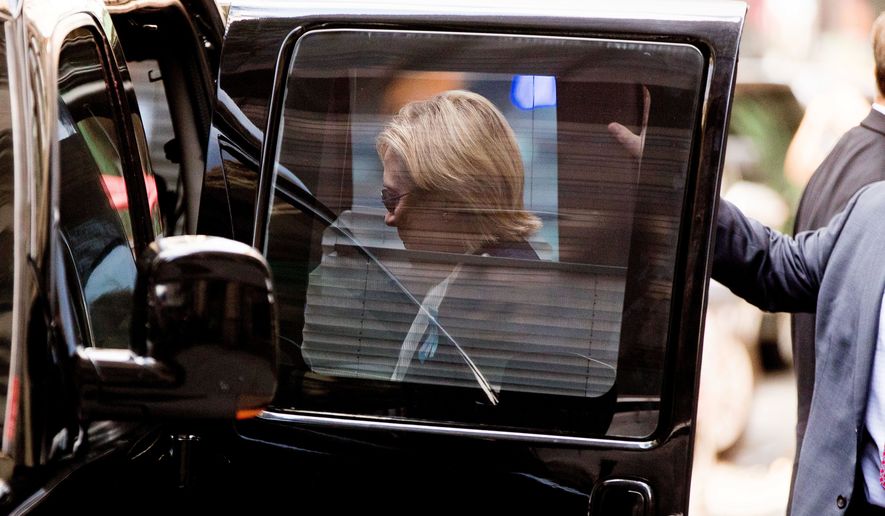 Health concerns that have dogged Democratic presidential nominee Hillary Clinton for months burst to the forefront Sunday when she abruptly left a 9/11 commemoration ceremony due to illness, and her campaign later reluctantly acknowledged that she had been diagnosed with pneumonia days earlier.
Mrs. Clinton is weathering a deluge of speculation about her health, including claims that she suffers from debilitating conditions ranging from seizures and dementia to Parkinson's disease that would impair her service in the Oval Office.
She has laughed off questions about her health, dismissing them as "conspiracy theories." Her personal physician has vouched for her overall good health, and independent medical experts have disputed some of the speculation about her presenting symptoms of a progressive, debilitating illness.
The incident at the 9/11 ceremony in New York, however, whether a fainting spell or a case of being "overheated and dehydrated" as her physician stated, only elevated concerns that Mrs. Clinton is hiding something about her health.
The suspicion also underscores the widespread distrust of Mrs. Clinton and the belief that she is deceptive.