Hillary's Presidential Bid Is Now Dead On Arrival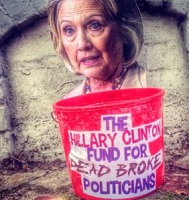 At the dawn of her presidential campaign, Hillary Rodham Clinton finds herself outflanked on the left by a former Maryland governor with little national reputation but many of the populist political talents she lacks.
Martin O'Malley is using Clinton's closely watched and long-anticipated 2016 launch to raise his profile ahead of his own likely entry into the race next month. He has seized on specific economic and social policy issues, including same-sex marriage and an international trade deal, in a bid to raise questions about Clinton's liberal bona fides.
The attacks — some more thinly veiled than others — have forced Clinton to explain herself on a number of difficult topics, which was not part of her plan for a gradual roll-out with an emphasis on middle-class economic issues.
It is a remarkable feat for an undeclared candidate who still lingers at the bottom of polls in a thin Democratic field.