Hookers For Hillary…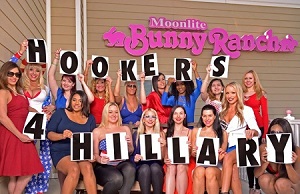 Prostitutes from Dennis Hof's Moonlite Bunny Ranch in Mound, Nevada have officially endorsed Hillary Clinton for president.
With a new campaign called "Hookers for Hillary," Hof says his girls will do anything they can to support Hillary.
"I'm reaching out to the Democrats in northern Nevada and saying 'what can we do to help?'" Hof told The Daily Caller. "Air Force Amy has announced that she's going to give another half-hour to any donor who donates to Hillary. An extra half-hour of time in the bedroom. That's her way of supporting. All the girls are coming up with different things they can do."
"Hookers vote too," he added.
Hillary's stance on foreign policy is apparently one reason the "Bunnies" have endorsed her, video below, citing her ability to negotiate with foreign leaders similar to how they communicate with foreign men through a "language barrier."