House GOP debt-limit bill gains momentum ahead of floor vote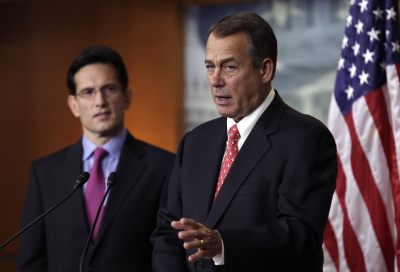 A House Republican bill to suspend the debt ceiling through May 19 gained momentum on Tuesday ahead of an expected vote on Wednesday.
The White House blessed the GOP measure, with press secretary Jay Carney calling it "significant" and "certainly something we welcome."
Staunch conservatives also largely held their fire, although some defections are expected from the Republican side of the aisle.
The conservative Club for Growth decided on Tuesday to not score the measure, relieving pressure on House Republicans who have often had to choose between their elected leadership and outside party activists on key votes.
"The Club for Growth will not oppose tomorrow's vote on the debt ceiling," Club for Growth President Chris Chocola said in a statement.
Several of the conference's most hard-line members told reporters they were giving serious consideration to the measure based on a promise by Republican leaders to commit to a budget resolution that would eliminate the deficit within 10 years.
The bill includes a stipulation that if the House and Senate do not each approve an annual budget, members would have their salaries withheld. Republicans have complained that the Democratic-led Senate has not passed a budget in nearly four years.