House GOP passes 'Enforce the Law' Act to battle Obama's imperial presidency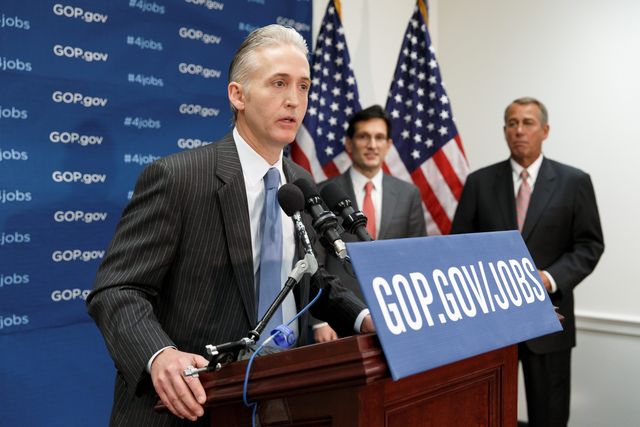 Tired of watching helplessly from the sidelines as President Obama decided how to enforce the laws they wrote, House Republicans on Wednesday pushed back, passing a bill they said would at least rope in the courts to serve as potential referees between the branches of government.
The bill, which passed on a near party-line 233-181 vote, says that when either the House or Senate passes a resolution finding that a president is failing to execute a law, lawmakers will have legal standing to sue in federal court, with a speedy appeal to the Supreme Court.
"We are not held in high public esteem right now. Maybe members of Congress would be respected more if we respected ourselves enough to require that when we pass something, it be treated as law," said Rep. Trey Gowdy, the South Carolina Republican who wrote the legislation.
It's the latest in an escalating battle over Mr. Obama's use of executive authority to do an end run around Congress. The president says he has stayed within his rights and has threatened to veto the House bill if it reaches his desk.
The fight erupted as Mr. Obama was making last-minute adjustments to his health care law and as he was preparing to face fierce pressure from immigrant rights groups that want him to expand his executive action and grant tentative legal status to most illegal immigrants living in the U.S.