House rejects O-Care 30-hour workweek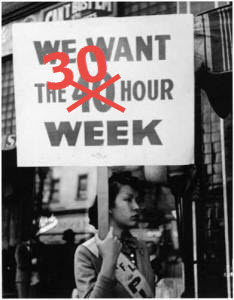 The House voted Thursday to eliminate a piece of ObamaCare that Republicans say is forcing millions of people to accept reduced hours and smaller paychecks.
Members passed the Save American Workers Act in a 248-179 vote, after a debate that stretched out over two days. Eighteen Democrats voted with Republicans, a bit more than the seven Democratic co-sponsors of the legislation, H.R. 2575.
The bill would eliminate language in ObamaCare that defines a full-time employee as anyone working 30 or more hours a week, and insert a 40-hour requirement. Republicans say that language creates an incentive for companies to reduce people's hours to 29 or less, since that move would reduce the number of full-time employees on staff.
Once companies have 50 or more full-time workers, they are required under the law to provide health insurance to those workers.
Republicans have said for the last several weeks that the bill is leading to reduced hours and paychecks at a time when the economy is struggling to produce solid job growth.