Hypocrisy: Unions want exemption from $15 minimum wage law THEY PUSHED!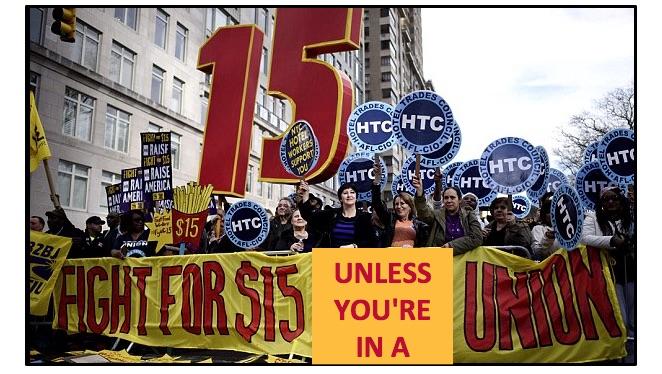 This has to be the month's top entry in the "Just when you think you've seen it all" category — and it will be more than a little interesting to see how the nation's press handles it.
As the Associated Press reported a week ago, the City Council in Los Angeles, by a vote of 14-1, ordered the drafting of a law mandating a citywide minimum wage of $15 per hour by 2020, noting that "the support of Mayor Eric Garcetti virtually guarantee its eventual adoption." Now that it's almost a done deal, labor unions whose members earn less want to be exempt from the law. Seriously. And it's not that the unions were caught off guard, because the person who is most visibly arguing for the exemption "helps lead the Raise the Wage coalition"!
Apparently caught completely flat-footed, three Los Angeles Times reporters, in a rare break from the paper's non-stop leftist bias, filed a fair and balanced report on the truly offensive situation. In the process, organized labor may have tipped its hand as to what's really behind their national $15-per-hour minimum wage campaign — but only for everyone else (bolds are mine throughout this post):