Illegal immigrants file applications to force Obama's hand on stopping deportations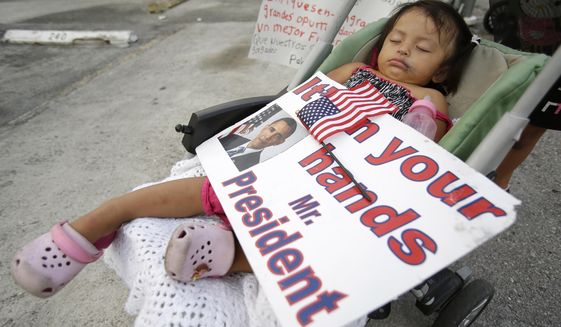 Nearly a dozen illegal immigrations announced a campaign Wednesday to force President Obama's hand on halting deportations, saying they would file papers demanding to be let into the existing program granting so-called Dreamers legal status, even though none of them qualify.
Some of the immigrants came as children and would have qualified except they went home for college and then came back, while others are parents of Dreamers who have already gotten legal status under Mr. Obama's 2012 program. And one is Jose Antonia Vargas, a former Washington Post reporter who was a few months too old to qualify for the Dreamer policy, and whose case has become a flashpoint in the immigration debate.
Mr. Vargas, who travels the country advocating for illegal immigrants, said they often hear complaints from Americans who tell them they should get in the back of the immigration line. But he said that's impossible for most illegal immigrants, saying there is "no line" for them to get in that would earn them legal status from within the U.S.