Trump Strategy: If It Ain't Broke…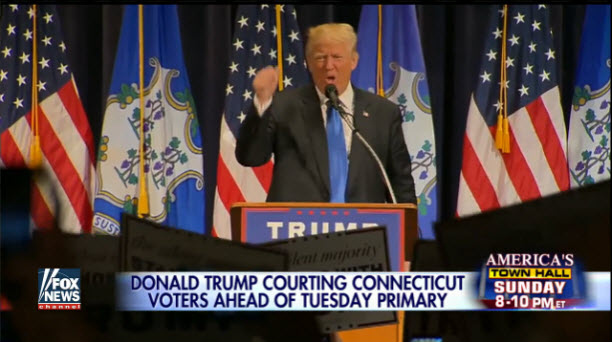 Donald Trump showed no signs Saturday of "toning it down" on the campaign trail, attacking the Republican establishment and presidential rivals — after attempts to be "more presidential" and assurance from a top adviser a day earlier that the GOP front-runner would show more restraint.
Trump said at a rally in Bridgeport, Conn., that "being presidential is easy" but boring.
"I have to keep you people entertained and awake," Trump told the crowd of about 1,000. "Have you seen Hillary Clinton using a teleprompter … . People starting yawning. It's a disaster."
He also returned to calling Clinton, the Democratic presidential front-runner, "Crooked Hillary" and the argument that the Washington Republicans' system of awarding delegates for primary and caucus wins is "rigged."
Trump appeared unwilling to spare anybody on Saturday, suggesting GOP rival Ohio Gov. John Kasich change the spelling of his last name so that it could be more easily pronounced. And he returned to calling his closest primary rival, Texas GOP Sen. Ted Cruz, "Lyin' Ted," after referring to him as "Senator Cruz" after Trump's commanding victory Tuesday in the New York primary.