It's Huma's Fault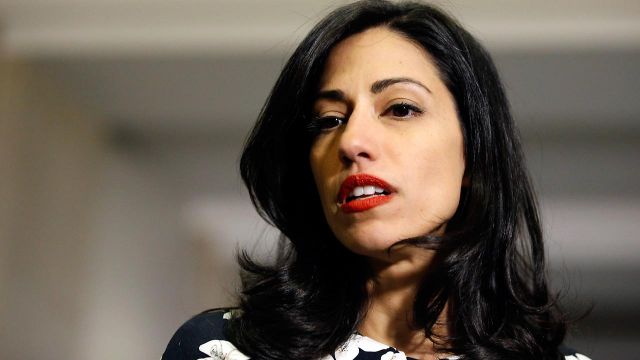 While many of Hillary Clinton's top advisers have focused their post-presidential election fury on blaming alleged Russian interference and FBI Director James Comey for Clinton's loss, some in the so-called "Hillaryland" orbit are looking inward, including pointing fingers at Clinton's most-trusted aide: Huma Abedin.
"The real anger is toward Hillary's inner circle," a Clinton insider told Vanity Fair for a Wednesday feature on Abedin. "They reinforced all the bad habits."
One of the most important people in that "inner circle" was Abedin, 40, who has been by Clinton's side since she was a White House intern during President Bill Clinton's tenure. The email trove hacked from Clinton Campaign Chairman John Podesta and posted on WikiLeaks shows Abedin, the estranged wife of disgraced ex-Congressman Anthony Weiner, as an important resource for the campaign. The vice chair of the Clinton campaign, Abedin offered guidance on Clinton's probable thoughts regarding upcoming events, meetings and calls before the requests ever made it to the Democratic presidential candidate. While her fingerprints don't often appear on policy issues, she weighed in with authority on most other matters.
Clinton was known to keep an extremely small and tight-knit group around her, and, indeed, during the 2016 primary and presidential campaign, the core group – including Campaign Manager Robbie Mook, Communications Director Jennifer Palmieri, adviser Cheryl Mills, Podesta and Abedin – never changed.