Jeb Bush Calls Obama A 'Latin American Dictator'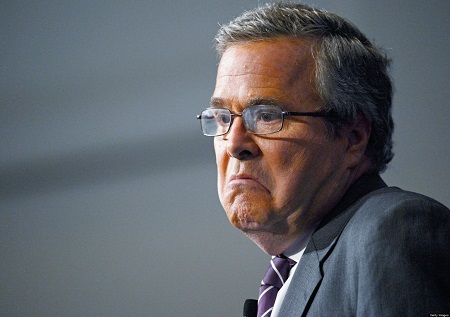 The interview is in Spanish, but a translation appears below. Watch as Jeb Bush desperately tries to convince pro-Amnesty activist Monica Reyes that he is loyal to the concept of amnesty for illegal aliens but simply objects to Barack Obama's tactics.
Monica Reyes: Will you prioritize the termination of the DACA & DAPA programs?
Jeb Bush: DACA is… Which one is DACA?
Monica Reyes: You said that you would undo President Obama's overreach. Are you referring to DACA and DAPA?
Jeb Bush: Exactly, and pass them as a law instead of how it has been done.
Monica Reyes: So you do have plans to end DACA and DAPA.
Jeb Bush: DACA is, which one… the one that deals with Dreamers. We ought to give Dreamers priority towards citizenship, but through a law not through a decree – something a Latin American dictator would do.
Monica Reyes: But you would terminate the programs. So a person like me who qualified for DACA would be left out and without any opportunities.
Jeb Bush: No. What I am saying is that – I wrote a book – this is totally illegal (DACA & DAPA)
Monica Reyes: Yes, but, you recently said that you would dismantle both programs (DACA & DAPA)
Jeb Bush: Exactly, and pass a bill that would allow for a permanent solution…