'LES DEPLORABLES!' Trump floors cheering Miami crowd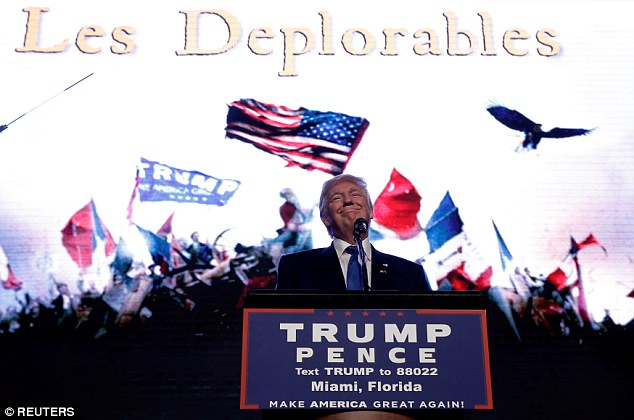 Donald Trump unveiled a new visual campaign theme in Miami on Friday – a mashup of the Broadway musical 'Les Misérables' and an epithet Hillary Clinton leveled at his supporters one week ago.
He took the stage, introduced by former New York City Mayor Rudy Giuliani, as the 'Les Mis' anthem 'Do You Hear the People Sing' blasted through loudspeakers.
The video screen behind the podium flashed to an artistic rendering of 'Les Deplorables,' complete with USA and 'Trump' flags replacing the French colors, and a bald eagle soaring over the revolutionary scene.
'Welcome to all of you deplorables!' Trump boomed as thousands screamed 'Trump! Trump! Trump!' and 'We love you!'
The Presidential candidate then went on to revive an old campaign controversy by implying violence against his opponent.