March Madness: White House Pushes Obamacare Through NCAA Tournament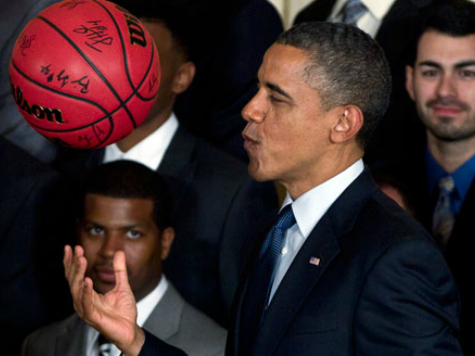 The NCAA basketball tournament is wildly popular. ObamaCare isn't. So to boost interest in the latter the White House will hitch its star to the former. Can we get a Supreme Court ruling on the separation of sport and state, please?
The basketball-ObamaCare promotional assault starts Monday when the White House releases its "16 Sweetest Reasons to Get Covered," a play on the tournament's Sweet 16 round. A video, featuring the president and two as-yet unnamed college coaches, will accompany the "16 Sweetest Reasons…" On Wednesday, the president commandeers ESPN to unveil his bracket and unleash a pitch for viewers to sign up for health insurance through the government exchanges.
Last year, the president's bracket attracted nearly 300,000 views on WhiteHouse.gov. Though Barack Obama's bracket winner Indiana fell to Syracuse in the Sweet 16, the Basketballer-in-Chief's predictions became one of the more popular entries on the White House website. The administration's communications team hopes this year's views for the presidential bracket translate into ObamaCare sign-ups, thus the full-court, Billy Donovan-style pressure defense.
If sports serve as your escape, Big Brother plans on finding you over the next two weeks. LeBron James, who has enjoyed considerable success selling Big Macs and Sprites, penitentially appears in a television commercial pitching health care. The spot will run on TNT, ABC, ESPN, and other networks broadcasting basketball.