Marco Rubio, Rand Paul get a boost as conservatives endorse new generation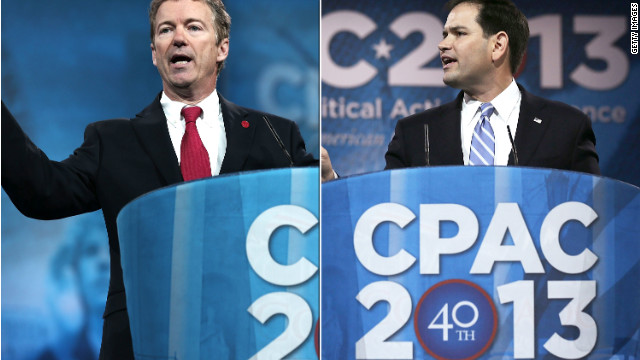 As the Republican Party ponders its future, this year's Conservative Political Action Conference showcased two men who could be its leader: Sen. Marco Rubio of Florida, who activists saw as the man who can unite their movement, and Sen. Rand Paul of Kentucky, who has staked his claim to be the GOP's fighting heart.
United in many of their political beliefs, the two stars of the conservative youth movement bring different styles — and possibly different goals — to what most Republican analysts expect to be a party-defining 2016 presidential primary.
Mr. Rubio, 41, bounded onto the stage at CPAC to the pop song "What Makes You Beautiful" by the boy group One Direction, while Mr. Paul, 50, climbed onto stage to "Enter Sandman" by the heavy-metal band "Metallica." Mr. Rubio wore what appeared to be a newly pressed suit, while Mr. Paul sported blue jeans, brown cowboy boots and a white shirt with a rumpled collar.
And over the course of their roughly 20-minute speeches, both called on the party to be the voice of the middle class in America, but, much like their entrance music and choice of wardrobe, they did so in different fashions.
Mr. Rubio, a masterful orator, talked optimistically about the nation's future, while staking out traditional conservative positions on fiscal and social issues — all without shaking his fist at the GOP establishment or mentioning his pet issue, immigration, which continues to divide conservatives and the Republican Party.
Mr. Paul, meanwhile, issued a call to arms against the Republican Party, saying the "GOP of old has grown stale and moss-covered" and calling for a "new GOP" that he said must make liberty its "backbone."