Nazis and anti-Semites slip through GOP primaries, causing headaches for party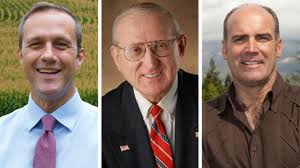 Arthur Jones is an avowed member of the American Nazi Party, a Holocaust denier and a sympathizer of the Ku Klux Klan.
He also is the Republican candidate challenging Democratic Rep. Dan Lipinski for Illinois' Chicago-area 3rd Congressional District.
Jones is one of several Nazis, Holocaust deniers or white supremacists who have elbowed their way onto the GOP ballot for November's midterm elections, in part by either concealing their views or running unopposed in the primary. But their campaigns have alarmed Republican leaders, with state and national GOP figures now speaking out against them and making clear they are not welcome in the party.
"The Illinois Republican Party and our country have no place for Nazis like Arthur Jones," Tim Schneider, the chairman of the Illinois GOP, said in a statement to Fox News. "We strongly oppose his racist views and his candidacy for any public office, including the 3rd Congressional District."