New Travel Ban Today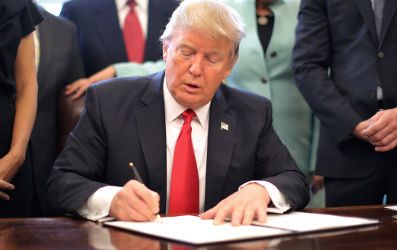 A revised executive order temporarily banning the entry of people from several Middle Eastern and African countries and halting the nation's refugee program is set to go to President Trump on Monday, a White House official said.
The White House official spoke to the Associated Press on condition of anonymity.
The administration has repeatedly pushed back the signing of the new executive order as it has worked to better coordinate with agencies that it will need to implement the ban. The new order has been in the works since shortly after a federal court blocked Trump's initial effort.
Trump was elected in November in large part on a national security platform that included stronger U.S. borders and putting an end to ISIS and other radical Islamic terror groups.
One of his first official acts after taking office in late-January was to sign executive orders that temporarily halted the U.S. refugee program and travel from seven mostly-Muslim, Middle Eastern and African countries.