Obama Omits God While Reciting The Gettysburg Address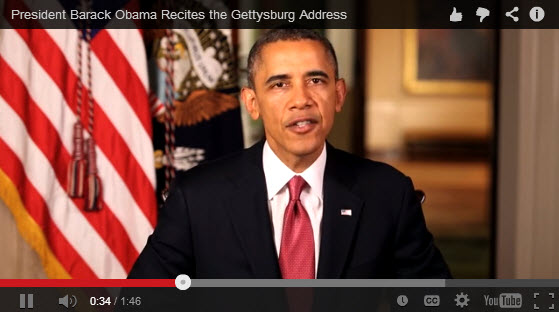 Nov. 19 marks the 150th anniversary of President Abraham Lincoln's famous Gettysburg Address, the two-minute speech delivered at the dedication of the national cemetery where thousands of Americans died fighting the Civil War. But according to a video of President Obama reciting the infamous words, "God" isn't in it.
Obama and several other famous faces (from politics, entertainment and business) recorded versions of the address for filmmaker Ken Burns and his project "Learn The Address" created for PBS. But, in the video that Obama recorded on his own, an important word was omitted from the text: God.
Here's the ironic video, considering it's part of the push to "learn the address":
President Barack Obama Recites the Gettysburg Address
WMAL's Chris Plante noticed that the president dropped "God" and his crew also checked the other recordings. He says every single famous face in the Ken Burns video recited the speech and included God. Plante's team put together a sampling of other people involved in the project using "God." They told us, however, that after reviewing the other clips the president was the only one to omit the word.