Obama Vacations Despite Iraq, Ukraine, Immigration Crisis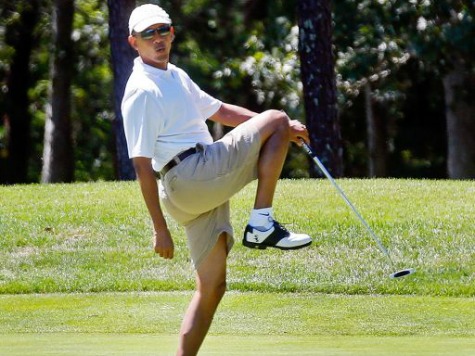 Even as Iraq is falling to renewed attacks by radical Islamists, pro-Russian forces escalate the killing of Ukrainian soldiers, and as thousands of illegal immigrants are surging across our borders causing misery and a national health crisis, President Obama has decided to take an extended weekend vacation, perhaps to get in a little golf.
The president and his family have jetted off to the desert oasis of Rancho Mirage, California, for an extended Father's Day vacation.
As the Los Angeles local CBS affiliate noted, Obama's staff has helpfully "scoped out some golf courses and gave a list to Obama just in case he wants to spend Father's Day on the links."
If the president breaks out the clubs once again, it will be the sixth time he's golfed in Rancho Mirage since entering the White House. As of May 24th, 2014, President Obama has hit the links 173 times since becoming president.
No taxpayer-funded trip for Obama would be complete without some fundraising. On Saturday, the president is scheduled to attend a fundraiser for the Democratic National Committee at a closed-door event at a private home in Orange County, California.