'Over my dead body': Lindsey Graham rebukes idea to transform Supreme Court and Electoral College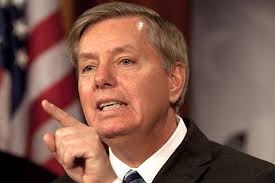 South Carolina Sen. Lindsey Graham rebuked plans by some Democrats to add seats to the Supreme Court and to do away with the Electoral College, in comments during an interview with Maria Bartiromo on Sunday morning.
"At least five Democratic senators are threatening a restructuring of the Supreme Court if they do not get their way in these gun cases. Tell us how you see it," Bartiromo said.
"This has been a dream of the Left for decades, is to increase the number of judges on the court," Graham answered. "Pack them with liberal judges so the court can do through the legal system what they cannot do through the ballot box. The dream of every leftist is to have a liberal court and enacting laws from the bench. The dream of every conservative is to have judges who will interpret the law, not make the law. So when you hear expanding the court, that is code for liberals packing the court."