Paul electrifies conservative base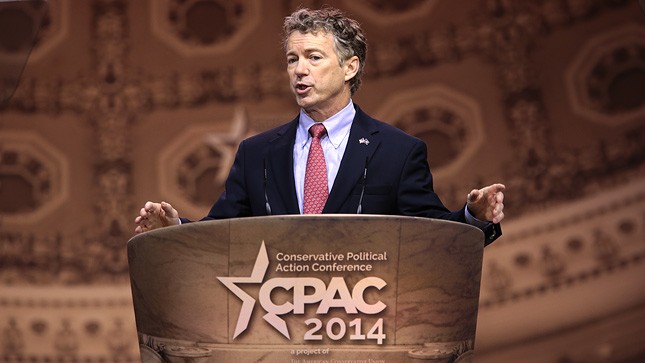 A presidential-sounding Sen. Rand Paul (R-Ky.) wowed the the Conservative Political Action Conference on Friday afternoon, proving he still captures the imagination of the party's libertarian-leaning wing.
Speaking to a standing room-only crowd, Paul received the warmest reception of any headliner yet at the conference. As he ticked off what sounded like the possible outlines of a 2016 White House bid, nearly every other line of his address was punctuated by hearty applause and cheers, and at one point a cry of "Rand Paul run!" rose up in a corner of the crowd.
While other addresses at this year's CPAC focused on specific policies and red-meat issues like gay marriage and ObamaCare, Paul spoke in broad metaphorical terms of the need to "stand together for liberty."
"It isn't good enough to pick the lesser of two evils," he said. "We must elect men of principle and conviction and action who will lead us back to greatness. There is a great and tumultuous battle underway, not for the future of the Republican Party, but for the future of the country."
Paul framed the libertarian-ideas that have gained prominence within the party in recent years in historical terms, positioning his values as descending from the nation's Founding Fathers. Paul name-dropped foundational American thinkers ranging from Daniel Webster to John Adams, Madison to Montesquieu, but also quoted Pink Floyd's Roger Waters.