Perry calls indictment a 'farce': 'I wholeheartedly and unequivocally stand behind my veto'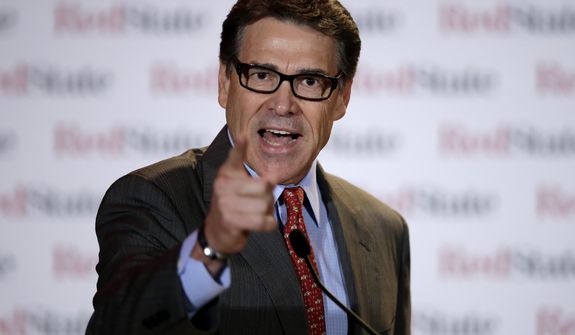 Texas Gov. Rick Perry gave remarks Saturday on a state jury's decision to indict him for abusing his vetoing power on Friday saying that he stands by his decision and would fight the indictment, which he called a political farce.
"We don't settle political differences with indictments in this country," Mr. Perry said. "It is outrageous that some would use partisan political theatrics to up away at the very fabric of our constitution."
SEE ALSO: 'Witch hunt': Cruz, Jindal rush to defend Gov. Perry after indictment
Mr. Perry, who is rumored to be considering a bid for the 2016 presidency, said that he would explore every legal option to fight the indictment and said that the state constitution clearly outlines his authority to veto funding at his discretion.