Poll: Paul, Huckabee lead 2016 GOP pack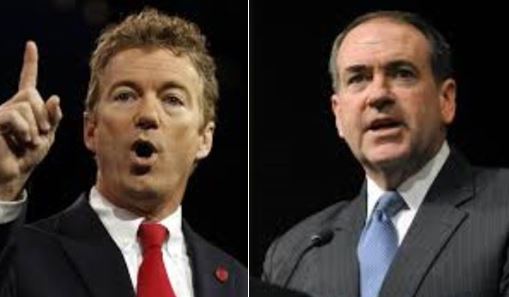 Sen. Rand Paul (R-Ky.) and former Arkansas Gov. Mike Huckabee lead the likely Republican field for the 2016 presidential nomination, according to a new poll released Saturday.
Huckabee and Paul each drew 13 percent of the poll's respondents, published by WPA Opinion Research. Former Florida Gov. Jeb Bush was the only other Republican to garner double digit support, pulling in 11 percent.
New Jersey Gov. Chris Christie and Sen. Ted Cruz (R-Texas) rounded out the top five, each pulling in 9 percent. Rep. Paul Ryan (R-Wisc.), who was the party's vice presidential nominee in 2012, was the choice of 6 percent of respondents, tying with Sen. Marco Rubio (R-Fla.).
"The important thing at this point of the race is staying in the conversation, and the fact that Rand Paul, Huckabee, Bush, Christie and Cruz are all managing to do that bodes well for them long term," said WPA Research CEO Chris Wilson in a statement.
Wisconsin Gov. Scott Walker (R-Wisc.), who spent Saturday appearing before a Republican Jewish Coalition meeting in Las Vegas, was the choice of 5 percent of those surveyed. Louisiana Gov. Bobby Jindal and former Sen. Rick Santorum each earned 3 percent, and Texas Gov. Rick Perry rounded out the field with just 1 percent. Of the Republican voters surveyed, nearly two in 10 said they did not have a preference on who would became the GOP's 2016 pick.