Pundits Imply Rand Paul's Campaign Already Over Ahead Of His Announcement Today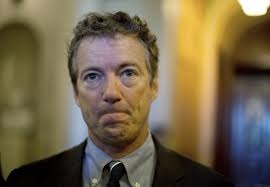 [A]s he prepares to make his formal announcement Tuesday, Paul is a candidate who has turned fuzzy, having trimmed his positions and rhetoric so much that it's unclear what kind of Republican he will present himself as when he takes the stage.
The haziness over Paul's positions increased last week with his conspicuous silence on controversies in the realms of both national security and the cultural fronts.
Nearly all of his potential rivals for the 2016 GOP nomination have been vocal in their support for Indiana's new religious liberties law, which critics say would allow discrimination against gays. And the Republican response to President Obama's nuclear negotiations with Iran has been widespread skepticism.
In both instances, Paul's office said he was vacationing with his family and would not comment.
What Paul says Tuesday and in several stops in the following days will be closely watched by a handful of disparate constituencies into which he has tried to make inroads over the past year, including Silicon Valley executives…