Reid now GOP's top bogeyman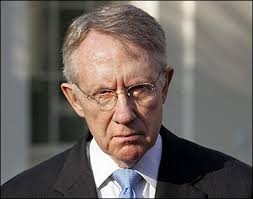 Harry Reid is replacing Nancy Pelosi as the Republicans' favorite villain.
Reid (D-Nev.), the Senate majority leader, has become the Democratic leader in Congress that conservative radio hosts and donors love to hate, leaving Pelosi (D-Calif.), the House minority leader, as something of an afterthought.
"I think he's much better than Mrs. Pelosi. He seems to be front and center much more than Mrs. Pelosi," said Carole Goeas, a Republican fundraiser.
Pelosi traditionally has been the Republicans' chief fundraising magnet on Capitol Hill. Republicans note she is a wealthy denizen of San Francisco, and fits into the stereotype of a limousine liberal. GOP fundraisers have demonized Pelosi for millions of dollars in donations.
"I think Harry Reid is trying to replace Nancy Pelosi as the Democrat that Republicans most love to hate," said David Di Martino, a Democratic strategist and former Senate aide. "What you're seeing with Sen. Reid is a frustration that's manifested after years of obstruction that is all fueled by the Koch brothers and the right wing groups that have spent the last six years blocking everything the Democrats want to do."