Religious Freedom Prevails?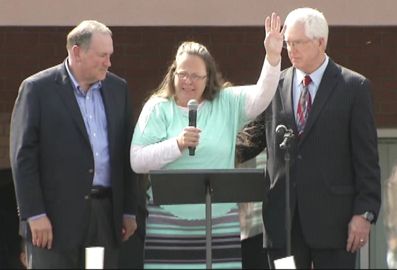 Kim Davis, the Kentucky clerk locked up for refusing to issue marriage licenses to gay couples, was released from jail on Tuesday — as her case also drew the personal attention of two presidential candidates.
Davis was greeted by a crowd of singing and cheering supporters as she exited the jail. They sang "Amazing Grace" and "God Bless America," as her attorney vowed Davis would be back to work "this week."
The order for her release came from U.S. District Judge David Bunning, the same judge who initially jailed the Rowan County clerk last Thursday on a contempt of court charge. But Bunning lifted that order Tuesday. He said the court is "satisfied" that since last week, the clerk's office has been issuing marriage licenses "to all legally eligible couples" — those licenses have been handled by Davis' deputy clerks.