Republicans and Democrats trade blame as Congress barrels toward a possible government shutdown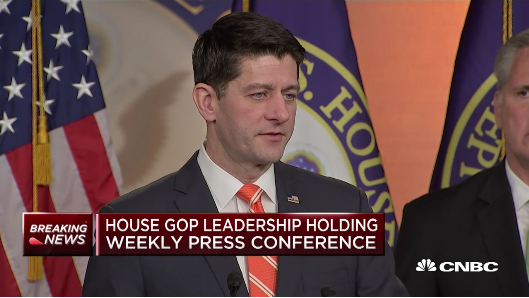 House Speaker Paul Ryan warned on Wednesday against "playing political games" as Democrats threatened to block a last-ditch spending deal this week if they cannot also pass a plan to protect young undocumented immigrants from deportation.
Parts of the government will shut down if Congress cannot pass a spending bill by the end of Friday. The GOP has framed passing funding legislation as crucial to supporting American military and national security efforts.
"For people to hold up money for our military for these unrelated issues — and for deadlines that don't even exist this Friday — that makes no sense," Ryan told reporters.
Republicans have control of the House, Senate and White House and can pass a spending bill on their own. Some Republicans, however, have criticized the notion of passing another short-term funding plan. Congress in late December last approved a stopgap bill through Friday.