Senators fume over Bergdahl deal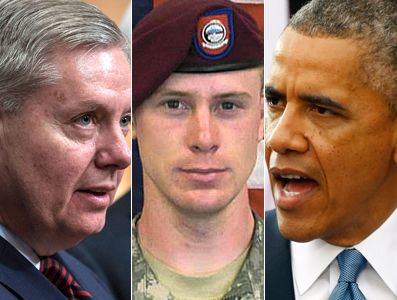 Frustrated senators fumed that they have more questions than answers after listening to a detailed administration briefing on the trade of five Taliban leaders for Sgt. Bowe Bergdahl, with one going so far as to threaten impeachment if President Obama uses this as an opening to shutter Guantanamo.
"If [President Obama] just tried to empty that jail, people would be calling for his impeachment," Sen. Lindsey Graham, R-S.C., said.
Officials from the State Department, Pentagon and intelligence agencies briefed lawmakers late Wednesday in an attempt to ease the mounting criticism surrounding the deal to free Bergdahl, who was held in captivity by the Taliban for five years.
However, many said the briefing did little to quell their concerns, the most pressing of which is that the five traded Taliban leaders could return to the battlefield.
Sen. Mark Kirk, R-Ill., said when asked if the officials thought the five released Gitmo prisoners would attack Americans, they said they did not know.