Sessions rips campus culture for creating generation of 'sanctimonious' snowflakes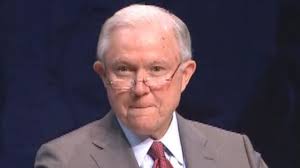 Attorney General Jeff Sessions delivered a blistering attack on campus culture in front of a group of conservative high school students on Tuesday, saying that colleges are creating a generation of "supercilious snowflakes."
"Rather than molding a generation of mature, well-informed adults, some schools are doing everything they can to create a generation of sanctimonious, sensitive, supercilious snowflakes," Sessions said during a speech at Turning Point USA's High School Leadership Summit in Washington.
Sessions focused much of his address on railing against what he called the suppression of free speech on college campuses and hostility against conservative students.
He added that instead of fostering open debate on campus, school administrations are bowing to liberal ideologies and "coddling students" with trigger warnings, crying rooms and therapy sessions.