Trump administration slams Pakistan's release of Hafiz Saeed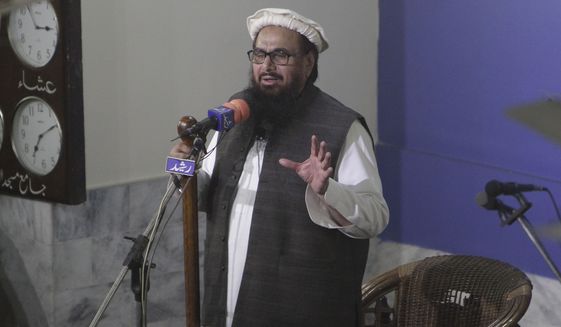 The White House Saturday slammed Pakistan's release of a U.S.-wanted militant, calling it a "step in the wrong direction" that will damage America's relations with Pakistan.
White House press secretary Sarah Huckabee Sanders said the U.S. "strongly condemns" the release of Hafiz Saeed from house arrest, and called for his "immediate re-arrest and prosecution."
"Saeed's release, after Pakistan's failure to prosecute or charge him, sends a deeply troubling message about Pakistan's commitment to combatting international terrorism and belies Pakistani claims that it will not provide sanctuary for terrorists on its soil," she said. "If Pakistan does not take action to lawfully detain Saeed and charge him for his crimes, its inaction will have repercussions for bilateral relations and for Pakistan's global reputation. "
Saeed is the leader of the extremist group Lashkar-e-Tayyiba, which allegedly was responsible for an attack in Mumbai, India, that killed 168 people in 2008, including six Americans. The Justice Department has designated him as a terrorist, and the U.S. has offered a $10 million reward since 2012 for information leading to his arrest and conviction.