Trump, Clinton declare each other unfit to serve as commander in chief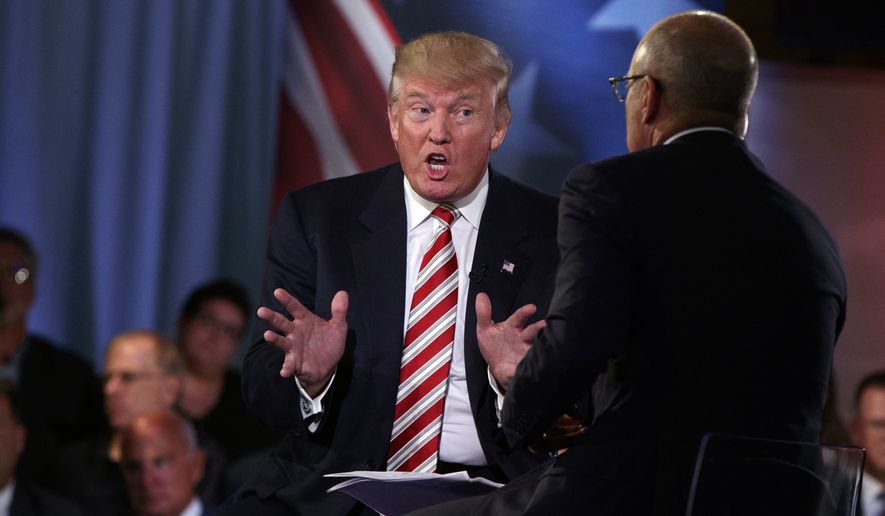 Seeking to paint themselves as eminently qualified and the other's judgment as lacking, Donald Trump and Hillary Clinton traded barbs Wednesday night over the Iraq War, the Islamic State, U.S. intervention in Libya and other key foreign policy challenges, each telling a hall full of veterans and servicemen and -women that the other isn't fit to serve as commander in chief.
At a forum hosted by NBC News and the Iraq and Afghanistan Veterans of America, the two White House hopefuls each accused the other of fully supporting the 2003 invasion of Iraq, pointing to how the conflict has destabilized the region and led to the rise of the Islamic State.
For her part, Mrs. Clinton once again admitted she'd made a mistake with her vote to authorize the conflict, but quickly turned the tables on her Republican foe and highlighted his own muddy position on the war.
"I think that the decision to go to war in Iraq was a mistake, and I have said that my voting to give President Bush that authority was, from my perspective, my mistake," Mrs. Clinton said during the 60-minute forum, at which each candidate answered questions for a half-hour. "I also believe that it is imperative that we learn from the mistakes. But I will say this: I'm asking to be judged on the totality of my record."
That record, she said, also included the 2011 military intervention in Libya, a decision Mrs. Clinton said she stands by. She also said "we did not lose a single American in that action," glossing over the fact that four Americans were killed in 2012 at the U.S. diplomatic outpost in Benghazi and giving Mr. Trump an opportunity to pounce.