Trump, Clinton In Dead Heat As Race Hits Final Two-Week Stretch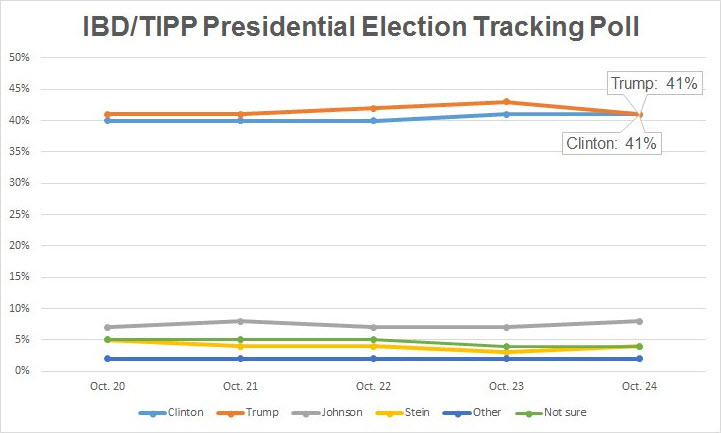 With the presidential election set to enter its final two weeks, Hillary Clinton and Donald Trump find themselves in a near dead heat at 41% each in a four-way race, the latest IBD/TIPP presidential tracking poll shows.
Libertarian candidate Gary Johnson edged up to 8% from 7%, while the Green Party's Jill Stein rebounded to 4% from 3%.
Without rounding, Trump stands at 41.1%, 0.1 percentage point behind Clinton's 41.2%. Johnson stands at 7.7%, unrounded, while Stein is at 3.7%.
In a two-way faceoff without the other two candidates excluded, Trump and Clinton are knotted at 42%. On the unrounded data, Trump slightly edges Clinton, 42.3% to 42%.
The poll of 815 likely voters has a margin of error of plus-or-minus 3.6 percentage points. It had a weighted response of 291 Democrats, 235 Republicans and 271 people who called themselves either "independents" or "other."