Trump makes case to GOP insiders amid chaotic protest scene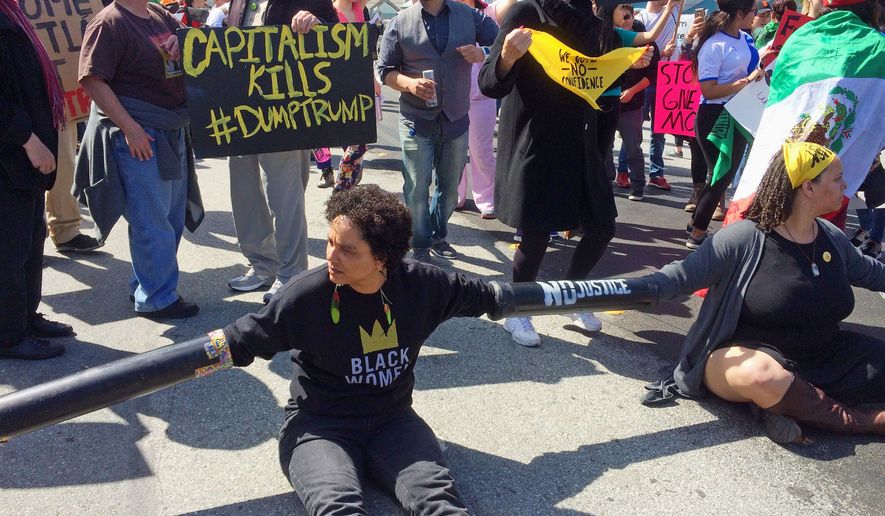 Donald Trump, the outsider, made his case to California's Republican establishment on Friday as protesters clashed with police.
Demonstrators swarmed outside the hotel near San Francisco airport, forcing Trump to crawl under a fence to enter the hotel where he met with local GOP power brokers and gave a lunchtime speech at the state party's convention. On Thursday night, protesters tangled with authorities and damaged police cars after a Trump rally in Orange County.
Tensions mounted as the GOP presidential contest moves into its final stages in one of the nation's most liberal and diverse states. The state party convention amounts to the starting bell in California primary, with Ohio Gov. John Kasich appearing later Friday and Texas Sen. Ted Cruz and his new running mate, Carly Fiorina, up Saturday.
During his speech at the convention, Trump called for the party to unify behind him but also issued a veiled threat to its leaders. "There has to be unity in our party," he said. "Would I win — could I win — without it? I think so because they're going to be voting for me" — and not the party, he added.
California's primary usually comes after the party nominees have been decided — but this year it looms as a decisive contest that could either clinch the prize for Trump or force him into a contested convention in July.